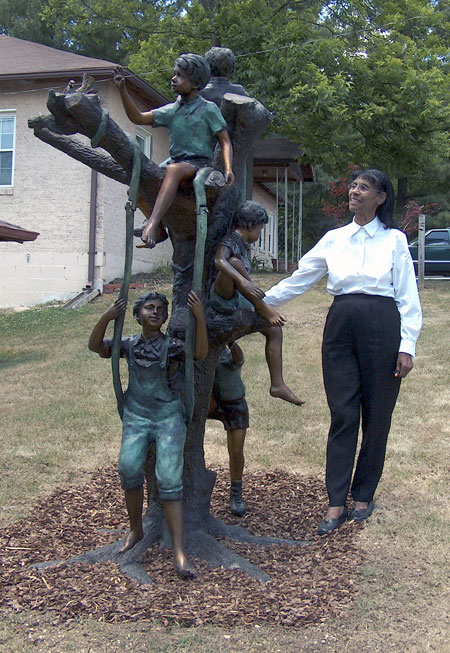 By Bill Grubb
Staff Writer | wgrubb@xtn.net
Source: The Rogersville Review
June 8, 2007

ROGERSVILLE — A group of five children play in a tree at the Hawkins County School System's central office complex, and officials expect them to be there for the next 100 years or so.

School officials unveiled a new addition to the lawn Wednesday, a bronze sculpture, with Director of Schools Clayton Armstrong give school board Vice-Chairman Ella Jo Bradley credit for making the project a reality. The sculpture features five young children climbing in and playing on a tree. Armstrong said the art work, paid for entirely by private donations, has its roots in two projects Bradley was involved in several years ago.

She was instrumental in getting a tree grant to plant new trees on the central office property and to beautify the grounds after large, older trees were destroyed by a storm. Bradley was also involved in an effort to renovate the former Saint Mark's Presbyterian Church into a youth activity center, although the project was ultimately shelved because of the condition of the building. She said the community had been generous. Some individuals wanted their money returned but she said the Rogersville Lions Club, Ora Gregory, the mother of a former student Bradley had in school, and Alice Wright Hale did not want their money returned.
"After the youth activity center was not able to get off the ground, some of the groups wanted their money back and others said for us to do something for the front lawn," Armstrong said."I wanted to do something for the children. I talked with Mr. Armstrong, and we both decided on this particular sculpture," Bradley said."I'd had it in my mind for quite some time, and when I saw this sculpture, I knew it was perfect." Armstrong said he and Bradley had actually been looking at various sculptures individually and found the same statue, although at a cost of more than $7,000 it was more expensive than the amount of money available. The company had a sale, lowering the price of the statue by 25 percent, and provided free shipping, which made the project affordable. In addition to the contributions from the community, Armstrong said Bradley dedicated the proceeds from several books to provide the necessary funding.

The statue, which stands approximately eight feet tall and weighs 650 pounds, arrived in February but Armstrong said it was not uncrate and installed until last week. "They (the company that sold the statue) said it should last 100 years. This is something that will be lasting, not only for our school system but the community," Armstrong said.